In 2007, the Innovative Users Group Steering Committee, at the suggestion of many members, created the IUG Beacon Award. The lighthouse was chosen as a symbol and the award was created:
To honor exceptional service to the Innovative Users Community through presentations, collaboration, selfless dedication to libraries as a whole, and sage advice to others via the IUG List. While a great implementation is the product of a great employee, the IUG Beacon Award will acknowledge great community members – people who help others attain greatness and share the knowledge that she/he gained in the process.
The lighthouse was chosen to symbolize: Inspiration, Navigation, Illumination, and Protection.
Winners of the IUG Beacon Award:
2023 (Phoenix, AZ) – Jeremy Goldstein, Minuteman Library Network, Natick, MA
2022 (Virtual) – Beth Juhl, University of Arkansas, Fayetteville, AK
2021 (Virtual) – Kathy Setter, IFLS Library System, Eau Claire, WI
2020 (Virtual) – Eeva Stierwalt, London Public Library, Ontario, Canada
2019 (Phoenix, AZ) – Karen Perone, Rodman Public Library, Alliance, OH
2018 (Orlando, FL) – Wes Osborn, Central Library Consortium, Gahanna, OH
2017 (National Harbor, MD) – Brent Searle, Langara College, Vancouver, Canada
2016 (San Francisco, CA) – Sylvia Lee, Washington County Cooperative Library Services, OR
2015 (Minneapolis, MN) – Carol Gyger – Poudre River Public Library, CO
2014 (Detroit, MI) – Martha Rice Sanders – The HELIN Consortium, RI
2013 (San Francisco, CA) – Karen Johnson – University of San Francisco, CA
2012 (Chicago, IL) – Corey Seeman – University of Michigan, MI
2011 (San Francisco, CA) – David Jones – Santa Clara University, Santa Clara, CA
2010 (Chicago, IL) – Linda Bills – Allegheny College, Pelletier Library, Meadville, PA
2009 (Anaheim, CA) – Richard Jackson – Huntington Library, Art Collections, and Botanical Gardens, San Marino, CA
2008 (Washington, DC) – Elizabeth Thomsen – NOBLE – Massachusetts
Elizabeth was awarded this honor for her excellent programs at IUG on Create Lists and her exceptional answers to questions that are posted to the IUG listserv
2007 (San Jose, CA) – Bob Duncan – Lafayette College, Easton, PA
Bob was awarded this honor for his tremendous effort to assist users of WebBridge and the WebOPAC. His support of other users via the IUG list far exceeds the documentation made available anywhere else.
2002 (Houston, TX) – Mieko Yamaguchi – The University of Wales, Bangor
Mieko was awarded this honor for both her photographic memory of the users manual and her amazing willingness to help other IUG members with issues via the listserv.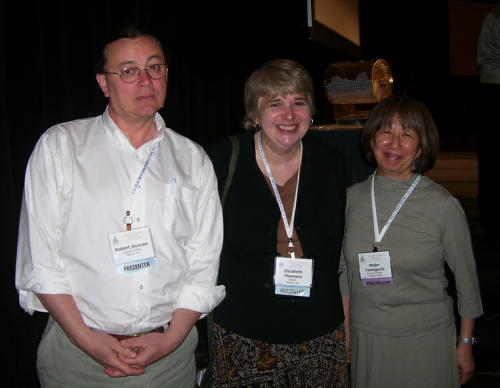 Bob, Elizabeth and Mieko at IUG 2008 Conference in Washington, D.C.
---
How to Nominate
The Beacon Award Selection Committee will solicit nominations from the IUG Community. The committee will select a recipient prior to the IUG Annual Meeting, where the award will be presented. The current IUG Past-Chair serves as the chair of the award committee.
Eligibility
Any librarian or staff member at an IUG member library
Current IUG Steering Committee and Beacon Award Committee members are ineligible. However, regional officers can be nominated.
Previous winners of the award are ineligible.
Number and Frequency of Awards
IUG Award Committee reserves the right to change the number of award winners in any year.
The Awards Committee may opt to give the award to one or two recipients during a single year.
The Awards Committee may also opt not to present the award at all during a single year.
Selection Committee for IUG Beacon Award
The current IUG Past-Chair serves as Chair of the Awards Committee. Other members include the IUG Secretary/Treasurer, IUG Steering Committee Members-at-Large in their second year of office, and the two most recent IUG Past-Chairs currently at an Innovative library.